Lee Eubanks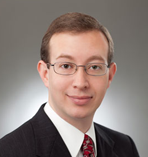 Lee is a registered patent attorney with extensive experience helping clients protect and manage intellectual property. He focuses his practice on strategic patent procurement and client counseling. He has helped clients pursue patent rights in hundreds of patent applications in many electrical and mechanical disciplines, including semiconductors, oilfield equipment and services, medical imaging, liquid crystal displays, software, and consumer electronics. He also has experience in counseling clients regarding patent validity and infringement, litigation, administrative post-grant proceedings, licensing, appeals, and portfolio management.
Lee graduated with honors from The University of Texas School of Law in 2004, where he was an endowed presidential scholar. Before law school, he graduated Phi Beta Kappa and magna cum laude from Southwestern University in 1998, where he studied physics, music, and mathematics. He also completed post-graduate work in physics at Southwestern University and holds a master's degree in music from The University of Texas.
Lee is a member of the Texas Bar and is registered to practice before the United States Patent and Trademark Office, the United States Court of Appeals for the Federal Circuit, and the United States Supreme Court. He is also an active member of the Houston Intellectual Property Law Association, previously serving as Amicus Committee Chair, Director, and Secretary, and currently serving as Vice President.